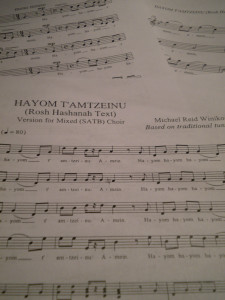 To Change the World?! – One of the great dramatic prayers of Rosh Hashanah, the Jewish New Year, begins, "Today the world is born."  The old traditional interpretation of this is that Rosh Hashanah is the anniversary of Creation.  Another even more compelling version is that today, each year, the world is re-born, created anew.  Each of us has the opportunity to re-create our own world, and by extension the whole world, for the better.
As composers, many of us hold the audacity of hope that each of our new compositions, to which in a very real sense we give birth, and which we often think of as our children, will in some small way make the world better, will introduce into it a tiny sparkle of joy, of hope, of inspiration, of a more profound understanding of things.
This past week, on the second day of Rosh Hashanah, I had the great honor of having one of my liturgical choral works, a setting of the concluding litany Hayom T'amtzeinu, introduced to my lifelong home congregation.  Although I was leading services at another synagogue and so wasn't able to hear it sung for the first time in situ as part of the service, I had been attending the choir rehearsals and helping them to prepare the piece, and had the privilege of hearing it come into full flower.
Winning Over the Performers – I was delighted (and relieved) at the very positive response to the work by everyone involved.  While the parts are occasionally tricky with unexpected melodic turns, I knew pretty much from the first read-through that the group would be able to tackle it quite easily – that they "got" it.  Much of the harmony came through immediately, and they seemed to catch on quickly.  It also didn't hurt that they found the parts vocally comfortable.
I've been fortunate not only that we have a particularly fine choir this year, but also that the two cantors and the conductor have all been strong advocates of my new piece, both in deciding to take it on and in ensuring meticulous preparation of the choir.  They too seemed to "get" it, and I didn't need to say very much.  By all accounts, it came off very well in the service.
The Best Laid Plans – There was, unfortunately, one frustrating aspect of this wonderful adventure.  This year the synagogue is using a new prayer book, in which the editors felt it necessary to change the order of verses in the text.  It's the sort of frustration that undoubtedly many composers of sacred settings in many faiths have had to experience – that of having to try and accommodate text changes for an existing musical setting or risk that setting becoming unusable and irrelevant.  Fortunately, I think I've found a way to address the changes.
Winning Over the Audience – Given that this place in the service is a beloved opportunity for congregational song, it can be daunting and risky indeed to dare make any change of tune, let alone introduce a choral setting.  This is perhaps the chief reason my Hayom was sung only once, on the second day, so that congregants would only be confronted with it once, after they'd gotten to sing the old tune on the first day.  But mine features a very singable, congregation-friendly melody, and I'm hoping they'll come to embrace it and not resent the change too deeply.
What's So Good About It?  In the wake of this gratifying experience, I've been trying to understand the possible reasons why my setting has been so well-received by the musicians.  Here are some thoughts:
Consider Both Performer and Listener.  I tried to think of both as my audience, and to know that audience.
Make it Accessible – For this particular audience, I ensured it wouldn't be too avant-garde or esoteric – this is not the place for experimentation.  On the practical side, it couldn't be unduly difficult, either musically or vocally – it would need fit the resources of the average synagogue choir.
Appropriate.  I endeavored for something not only beautiful and memorable, but especially apropos of the particular mood and occasion.  In this case, it meant knowing and making creative use of the special chant idioms for the High Holy Days and, of course, understanding the meaning and significance of the text.  Thus the old adage of authors – "Write what you know."
Singable.  I made certain the music was tuneful and coherent, taking special care to fit the music to the rhythm of the text in an optimal way for maximum singability.  In our Jewish community at least, all too often we encounter a congregational melody that doesn't really fit the text, which has been shoe-horned in.  This doesn't make for a very satisfying singing experience.
Concise.  I knew this would be no place for undue length, so I got to the point, avoided repetition and stayed within two minutes.
Ledgible.  I also made sure the score was easy to read – this seems obvious, but is not to be underestimated, and too often it doesn't happen.  In general, if the performers are presented with too many obstacles, the frustration and wasted time can prove counter-productive.  This is especially true with an orchestra, but it applies here as well.  I try always to grease the skids in introducing new music by making things as easy as possible for everyone.
Interesting.  Finally, I tried to achieve some degree of musical depth and substance.  A bit of harmonic interest, a touch of counterpoint, a compact and cohesive sense of form, all sprinkled with occasional subtle touches of the unexpected.  This may constitute a bit more challenge in learning at first, but properly done it can increase the gratification factor for both performer and listener, and might increase the durability of the piece in your repertoire over time.  Boring pieces can quickly become passé.
Think of your perennial musical favorites, and try to figure out some of the things that make them work so well for you.  Then apply those principals to your own creations.  It's sure to make for more successful, well-bred "children."       Join Email List