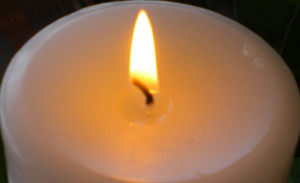 Have you ever gone to a concert – any kind of concert – and felt completely "underwhelmed" by the performers even though they were performing competently, doing everything right as far as the music itself was concerned?  What was it that struck you as less than engaging about the performance?
I'll wager it was a lack of commitment to the audience – a lapse of energy – that your were sensing.  It could stem from a few different things, such as:
Inexperience – Unless you're at least somewhat experienced in the art of performing, you might have an insufficient insight as to how much you might have to do in order to have it "read" properly from the audience.  You may think you're overdoing it, when in fact it could prove to be not nearly enough.
Tentative grasp of the material – Without the confidence that comes with full mastery and internalization of what you're performing (be it music, a play, a comedic bit, etc.), your delivery might come off as tenuous and uncertain.
Stage anxiety – Sometimes nervousness can actually work in a performer's favor, but just as often it can serve to quell the best aspects of delivery.
Fatigue or illness – Here again, nerves might prove beneficial in compensating for otherwise low energy.  Failing that, experience should tell the performer when that extra effort will be needed to make up for when we are tired or sick.
Lack of enthusiasm ("I've done this so many times….") – This may be the most challenging barrier of all to giving the audience a scintillating performance.  If you ever acted in high school or college theatre where the production ran for more than 1 or 2 nights, you might recall that by the 3rd night, it was tough to summon the same kind of commitment onstage.  Now try and imagine yourself (as I often have) as a professional having to go on night after night for weeks or months in an ongoing Broadway production!
Regardless of the reason(s), a lack of full and complete commitment (aka "phoning it in") will be all too apparent to the audience – as a lackluster performance, one with no "sparkle."  Imagine whether Bruce Springsteen would be as successful as he has been without his fabled stage energy!
The fact is – whether you are singing or playing in a solo role or in an ensemble, whether popular, classical or ethnic music, whether it's a concert or a sacred ceremony, or even a speech – energy and vitality in performance is absolutely key to engaging your audience.
Sometimes the energy lapse is limited to specific aspects such as diction, or facial expression, or musical line.   But even just one part of the performance that doesn't quite sizzle can make all the difference between an "okay" performance and a truly exciting one.  And quite often having that sizzle can more than make up for other shortcomings.  An audience is far more likely to forgive an innocent mistake in notes or the occasional crack in the voice than they are to accept an overall tentative performance.
High Energy Doesn't Mean LOUD or FAST.  While volume and speed can sometimes serve to convey a sense of engagement and immediacy, we can't always sing everything loud and fast.  And yet the energy has to come from somewhere.
A classic example of this sort of challenge is in singing a very slow piece.  This often means having to sing long held notes.  You may feel it's so slow, it's like swimming in molasses.  The all-too-typical fix is simply to speed up the tempo.  But even this won't make up for all of the energy deficiency, so why not deal with the problem head-on?
Listen to a good recording of Bach's famous "Air for the G String," or Handel's equally celebrated "Largo" from Serse [Xerxes], two classic examples of very slow pieces which would lose their very identities if they were taken even just a little faster.  As you listen, try and notice how the initial very long notes are given life and energy, how they are made to "bloom" as they lead seamlessly into what follows.
No Rest for the Musical.  What you might notice is a feeling of crescendo without an actual crescendo, along with a sense of urgency without an actual speeding up.  These add up to a feeling of heading toward a destination.  This is the secret to singing or playing with a proper sense of "line," of giving it shape and contour.  Although we are listening for it in those long-held notes, it must ideally be present in every note – long, short or in-between, and even through the rests!
Quiet Urgency.  This sense of constant energy is especially important when singing softly.  In fact a good rule of thumb is to increase your energy as you get softer.  Think of that urgency, that near-crescendo, and of diction, especially consonants (always important, but especially in those quiet moments).  Spit them out!
Learn to Gage How to Engage.  Energy does not mean OVER THE TOP, nor does it necessitate a lapse of dignity or good taste.  But it often does mean going farther than you as the performer might think is necessary or appropriate – exaggerating diction, facial attitude, dynamic changes, etc.  Let your conductor or other reliable advisor watch and listen from the house during rehearsals to gage what does and doesn't work.
Put On a Happy Face (Or At Least An Engaged One).  If you've watched truly top-notch classical performers, they may not be putting on the smiley faces as they play or sing.  But they truly look engaged.  Solo and chamber players, and even orchestral players move and sway with the phrases.  And it's a good bet they're not faking this.  A solo singer communicates the song or aria on his/her face.  Choral singers should likewise be able to convey the mood and context of what they are singing facially.
In short, really get into your performing, and show the audience that you are enjoying it, even if it isn't necessarily happy material.  If the music is sad, revel in that sadness and gloom, or whatever the mood and emotion might be.
If you want to engage the audience, be engaged.  But whatever you do, don't allow yourself to commit the cardinal sin of performing – boredom!     Join Email List