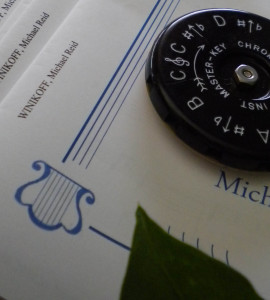 PART I:  CHOOSING THE TUNE
I'll start this post on introducing a new tune by saying "don't do it."  At least, don't try to introduce too many new melodies at once.  And avoid incessantly changing tunes for the same prayer or hymn in the service, unless they are all familiar tunes.  Variety is nice, but consistency and familiarity can be reassuring.
That said, it is nice to change things up from time to time with something brand new, so here are some helpful thoughts:
WHAT IS A GOOD TUNE?
Words and music.  Choose tunes that are appropriate to the text and its meaning, and especially choose tunes that scan well with that text.  Too many times we hear a tune that has been poorly "retrofitted" to the text (or vice versa), and we have to fit 3 or 4 syllables to a note.  A little of this isn't bad, as long as the rest of the tune fits well, but remember that the catchiest and most memorable songs are those where the text and notes fit together hand-in-glove.  If they don't fit at least reasonably well, consider not using the song.
Be apropos to the occasion.  Emphasize those prayers and tunes that are unique to the day or season.  After all, most of these observances only happen once a year – seize the opportunity.  Try to use tunes that relate to the nusach of the day.  (More on nusach in a later post, but for now suffice it to say – if you don't have a good knowledge of our chant modes, you're missing out on a powerful musical resource and an opportunity to help perpetuate Judaism's great musical tradition.)
Be practical to the occasion – Consider how you'll use a tune in the context of a service.  Remember that much of the liturgy must be done according to certain procedure, such as with responses or specific repeated verses (as in Hallel, Kaddish, or Kdushah).  When in doubt, be sure to discuss this aspect of any new tune with the rabbi or cantor before introducing it.
Make it interesting and singable.  If a tune isn't at least somewhat intuitive to its audience, it won't be quickly or happily received, and will be less likely to stay with them.  Some groups are more musically skilled than others.  Judge accordingly.  A good communal tune should be interesting but without too much chromaticism or too many weird intervals.
Get a round, have some fun.  For extra fun and musical substance, try teaching a 2, 3 or 4-part round.  Instant harmony! 
Quality should trump popularity.  Try to avoid choosing a song or style just because it's in vogue.  Although chances are if it's popular it must have something worthwhile to offer, this isn't always the case.  Make sure it's a good tune, appropriate to the dignity of worship.
Don't give in to pandering or "selling out."  It's incumbent on song leaders, cantors, rabbis, to maintain and observe standards of quality, dignity and appropriateness in our Jewish worship.  Avoid the syndrome of "lowest common denominator."  And keep in mind that for every individual you may attract to services by doing what's popular, you'll possibly be chasing someone else away.  Make it your business to choose and teach the most beautiful, authentic, appropriate and dignified music you can find.
Use the definitive version.  Pretty much any tune (old or new) you're likely to be teaching has been composed by someone.  As a composer myself, I can attest that, grateful though we are that our music is being sung and enjoyed, no composer appreciates hearing his or her work devolve into a dozen permutations – an all-too-common occurrence in the world of Jewish congregational music, as tunes are often spread around like gossipy rumors.  Sometimes the damage has already been done, and may not be readily reversible.  But when introducing a new melody, be sure to rely on an authorized source, and be scrupulously accurate in transmitting it to your congregation or group.  You owe the composer at least that.
Keep the Old.  Not all our tunes have to be new or in vogue!  Occasionally it's good to bring out an old melody that is perhaps more authentic than many of the new ones.  They are often worthy of being called classics, and they keep us connected to our history.  Hearing such old melodies can invoke memories in a powerful way, and make the worship experience more authentic and meaningful.
In PART II of this post, we'll get into teaching the tune.