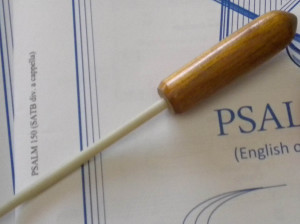 Whenever a group of singers or players performs together, no matter if they are soloists, choir, chamber group, orchestra or any combination thereof, it is essential that someone lead or conduct the group.  With a small group, this may entail no more than a subtle visual cue by the first violinist, or the lead player in a rock band or jazz combo, occurring at a few key moments such as the opening attack or a final cutoff.  In Baroque ensembles (which generally aren't exceptionally large), the keyboardist may conduct the group from the keyboard.  A similar situation often happens with church choirs.  But for most larger groups, especially of a non-professional level, someone will be conducting the entire piece.
For choirs, the person who conducts often holds the title of choir director, and one is tempted to picture them under the cliché of film director, sitting in a director's chair with a megaphone and shouting "Work with me, people, work with me!" or "Action!" or "Cut!" or standing in a corner with a performer discussing motivation.
Actually, the more appropriate cliché here (as it is so frequently parodied in popular cartoons) would be the long-haired orchestra conductor performing histrionics with his baton a la Toscanini.
So what does a conductor really do?
Rehearsal – The conductor facilitates learning and rehearsing music, discussing dynamics (loud and soft), tempo (speed), articulations, and the general matters of interpreting a piece artistically.  He or she will also inform the group of certain particularly challenging passages where special signals will come into play, such as beating "in one" rather than in the pattern of the meter signature, or how a particular transition from one tempo to another will be conducted.
Performance – The good conductor performs some version of those fabled histrionics with expression as well as precision, since performance is not just about getting it right (although that is a prerequisite!), but also about making the artistic statement, indeed conveying to the performers in the visceral sense each expressive nuance throughout a piece.  The ensemble members are obliged to follow the conductor and serve that interpretation.
Light Travels Faster Than Sound.  There are two basic approaches to ensuring an ensemble staying together in performance:  by listening or by sight.
Listening is the frequent method for small vocal groups of no more than, say, 6 or 8 voices; or for jazz or pop instrumental combos, especially since it is easier to hear wind instruments or amplified guitars or keyboards than unmiked voices.  Yet even in these small-group situations, more often than not at least some visual cueing is in play.
Sight or visual coordination is perhaps the more reliable method, especially for larger groups such as large choral groups or orchestras, and certainly in those special scenarios where smaller groups are placed off-stage, or across a large room from other groups.
Our natural tendency is to try and stay together by sound, but we know that sound travels much more slowly (1,100 feet/second) than light (186,000 miles/second), and while this difference is negligible at a small distance of perhaps 10 feet or less, it becomes more and more of an issue as that distance grows to 30, 40 or 50 feet and more.  And so the conductor's role becomes crucial, and it behooves the performers to rely on sight rather than sound.
Seeing the Conductor.  Some performances are done from memory, while in others, score and/or parts are used.  Performing from memory has the advantage of allowing the performers to give undivided attention to the conductor, especially in non-staged performances.  For some highly accomplished choral groups, this is standard procedure, though not always.
Most choirs, including some very highly regarded ensembles, perform at least some of their repertoire using music, and this is the usual procedure for oratorio and cantata performances, as it is for church and synagogue choirs.
Looking in Two Places at Once.  So the question for the choral singer becomes: "How do I watch both my music and the conductor at the same time?"  This is not as difficult as it sounds.  We hold our music high enough so we can look at the score and still perceive the conductor peripherally.  Ideally, we get to know the music well enough to find places where we can get out of the music and watch the conductor directly.  During the rehearsal process, we also note and mark clearly the places where it is particularly important to pay attention to the baton, such as a ritardando or accelerando, fermata or to accommodate a soloist.
Checking In With Your Eyes.  As many conductors will tell you, there is nothing more  frightening from the podium as seeing members of the group with their eyes buried in the music.  Make a point of checking in frequently with the conductor using direct eye contact.
Practicality.  That said, the pragmatic conductor will be accommodating to the group's need to use music, and realize that beating a clear and large pattern is more likely to be perceived peripherally by the group looking at the music in performance.  Be sure to insist that they hold the music high so they can catch you in their view.  In the happy instances where the repertoire is familiar, there can be more insistence on getting out of the music and giving fuller attention to the podium.
In a future post, we'll have more discussion about the basic language of the conductor's hand motions.        Join Email List