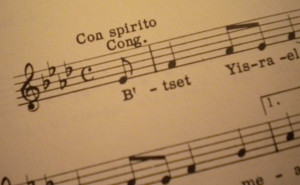 While most synagogues have traditionally had a professional or semi-professional cantor to conduct services, many congregations these days are encouraging lay people to participate in this capacity.  While this often involves solo singing, quite a lot of the time it means leading the congregation or group in communal song.  It's important always to distinguish one from the other, and to approach each of them differently.  Today, let's talk about how to be an effective leader of congregational or group singing.  Whether you're a lay person or an experienced sh'liach, I'm sure this will be helpful to you.
In general, put yourself in the congregants' place.  When you're sitting out there, take note of what works for you the congregant, and what doesn't work, and why.  Take your cues as the leader from your own experiences as a follower.  And of course, learn from the feedback of other congregants.
Some things to keep in mind when leading song: 
Lead so they can follow – Sitting in the pews, nothing is quite as frustrating as not being sure what the leader is up to in congregational singing.  A frustrated congregation is not a particularly happy or commited one.  A fully participatory group is one that has confidence in the leader and knows what's going on.  And in the long run, the more comfortable and at ease they feel with you ongoing, the more secure your position will be. 
This isn't a solo act – Don't try to be the artiste here.  They're not listening to (or watching) you as a performer, they're trying to follow you and sing along.  Keep things simple and direct.  There are lots of chances to be the solo act, but not now. 
Tempo, tempo – Don't indulge in lots of tempo fluctuations or held notes when leading.  Maintain a steady, comfortable tempo the group can keep up with – not too fast, not too slow.  
Rhythm – Sing in a clear rhythmic manner so the group can hear and feel it clearly.   If using a guitar, play "rhythm" guitar with solid chords. 
Be heard, be seen  – Don't push your voice, as this is counterproductive.  Sing efficiently, in your most resonant and ringing tone, and well-supported, so they can hear you.  If you have a microphone, make use of it.  And even if they're not hearing you, at least make sure they see you.  Conduct if necessary, even if it's simply bobbing your head or other basic body movements. 
Choose a key most people can sing in – Judge your audience.  With young people, remember that adolescent boys especially, who are in the midst of their voice change, often sing in a different range than older adults – typically about a third or fourth removed from most of us.  If it's mostly adults you're working with, judge by your own comfort range and adjust as necessary.  If you call yourself a low voice (mezzo-soprano or a baritone), you are probably going to sing naturally in about the right place.  A high voice (soprano or high tenor) might adjust a little lower, while a very low voice (bass) might consider taking it up a step or so from your comfort level. 
Be energetic, but not sickening –  Remember, this is isn't a nightclub act or an acoustic set at Folk City, but a worship service.  You don't need to be an entertainer.  Simply be yourself and be enthusiastic, and you're sure to accomplish the goal at hand. 
Know when to quit – Take it from experience, nothing falls flatter than a tune that "wears out its welcome."  Avoid excessive repeats and recurring refrains that unnecessarily lengthen things.  Less is more. 
Success hangs in the balance! – Make sure you have a good amount of congregational participation, but balance it with moments of passive listening (perhaps with choir or solo pieces), readings, speeches, etc.  Let people rest their voices!  Let them contemplate.  If you're in the position, impart this concept on your ritual or religious committee!
In an upcoming post, we'll discuss how to introduce a new congregational tune.