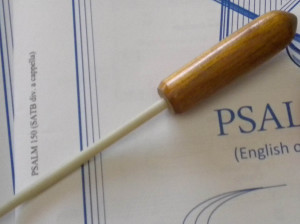 People who follow baseball or football know the importance of signals to the successful win.  Not being one of those people, I won't wade any deeper into it than that, except to say that conductors of music use signals that are of equally crucial importance.
You may have watched a classical performance in person or, better yet, on TV with close-ups of the conductor doing his/her thing.  Have you ever wondered what the conductor was doing, and how in the world the performers of the ensemble were able to follow?  If you have caught any such performances, did it seem to you that the conductor was effective in conveying these things to the singers or players?
(See also previous post KEEPING IT TOGETHER – The Importance of the Conductor)
Of course, every conductor is different.  Some are strict utilitarians, others are showmen.  Some are easier than others to follow, and this varies even among top-notch professionals.  And in any case, some conductors are more, some are less, demonstrative on the podium –  One may prefer economy of gesture, while another may "wear the heart on the sleeve" as it were, giving the full tilt of facial and bodily expressions, hopefully along with clarity of beat.
Speed and Attitude.  There are two basic things the conductor is supposed the convey to the ensemble:
1. Tempo – how fast or slow the music flows, and fluctuations thereof;
2. Mood and Affect – which can be conveyed in dynamics (variations in loudness/softness), accents and articulation, and other more subjective manifestations of expression.   In choral conducting, the attitude of a gesture can even be conducive to the vocal approach of the singers.
Recognizing the Basic Beat Patterns.  
Hopefully, your conductor will know the beat patterns and use them clearly and effectively.  If he/she does, and you the singer can properly discern them, you will have a powerful tool for always knowing where you are (or should be) in any given bar of music you perform.  This is really an essential skill to develop.
Here then are those patterns (customarily delivered with the right hand), each shown from both the conductor's and the ensemble's perspective:
The ONE Pattern:  This is basically just a repeated downbeat, creating a simple pattern that can be thought of as a vertical oval (generally wider for more legato effect, narrower for marcato), with the single pulse at the bottom of the oval.
The FOUR Pattern:

The THREE Pattern:
The TWO Pattern:
The SIX Pattern:
So what's an Ictus? – Ictus is simply a term to indicate precisely where the beat pulse falls.  In these diagrams, these pulses will occur at the arrowheads.  In sharp, angular patterns, they should be very easy to discern, but should still be clearly enough when delivered even in a smooth, legato pattern.
While the basic pattern tells you where you are in the measure, it is also important to note the manner in which the beat is delivered, which hopefully the conductor is using in an intentional way to achieve the effects desired.
Size matters – How big the pattern is beaten will indicate volume.  A small beat, as you might have guessed, indicates a quieter dynamic, while large means loud, and all the gradations in between.  If the music calls for it, one or more beats might be delivered larger than the others, indicating sforzando.
Hand shape – The conductor can convey various moods and attitudes by using, for example, thumb and forefinger touching to convey delicate precision; a flat horizontal hand to indicate broad accent; or even a fist to evoke heaviness of beat.
Beat shape – A legato (smooth) feeling will often be conveyed with a more curvy beat pattern.  A sharp, angular pattern, especially with a strong ictus, indicates a marked feel to the music.  A lack of movement between pulses might indicate a detached, or staccato approach.
Conducting in 911 – When during the course of a performance, things might begin to go amiss and the group is not properly together in tempo, the conductor might resort to an emergency procedure which I like to refer to as the white pattern.  This is a large, flat pattern of straight horizontals and verticals with a clear but unaccented ictus.  It's sole purpose in the moment is to indicate in the clearest way possible that: 1) The group isn't together, and 2) this is the beat and tempo that must be immediately adjusted to.  Think of it as musical CPR.  Once the crisis has passed, the pattern returns to normal performance mode.
Other "emergency" gestures include:
— Pointing to the mouth – meaning "more (clearer) text"
— Pointing up – meaning "you're under pitch"
— Pointing down – meaning "you're sharp" (not used as frequently as pointing up)
Both hands for emphasis – One or more beats may be mirrored in the other hand, such as for a subtle cue, or for a slowing or slight holding of one or more beats.  From the conductor's point of view, the less often this is used, the more effective it is when needed.
Cueing – Some conductors don't do this all the time, others seldom do it at all, still others are extraordinarily skilled at it.  Cueing is especially important in music where various parts are entering and cutting off at different times.  Some cues are given right on the entrance beat, others may be given the beat before.  This may depend on how fast the tempo is – in a faster tempo, the cue is generally given earlier.  All of this will hopefully be clarified in rehearsal.
Lesson to be learned:  Don't rely too heavily on the conductor for your cues, as even the best conductor can and does miss a cue now and again.  Know your music well enough to be able to come in properly if the cue isn't there.
"I can name that tempo in one beat."  Depending on how experienced you and others in your group are in your ensemble performing, you may eventually be able to make this claim.  If the conductor can do it properly, it is possible for the ensemble to begin a piece (or section of a piece) in the proper tempo with a single beat.  (This is usually the beat before the entrance of the group).  But for many non-professional level groups, such as a congregational choir, it may be necessary to have two or more beats (or a full measure) to lead the group into the tempo.  The jargon for this has customarily been something like "one bar for nothing."
The final beat of this lead-in is really a cue.  As such, it will properly be delivered with size and clarity by the conductor, who may even mirror it in the other hand.
Performing at the speed of light.  Remember that, as we have said before, light travels much faster than sound, and while the listening method is often very useful in staying together as a performing group, it's always best to at least combine it with the watching method.  And there are times when you must rely completely on watching the conductor.  In the recent VocalEssence U.S. premiere of  Jonathan Dove's "There Was a Child," our acoustic circumstances were such that this was the only reliable way to go.
Baton or No Baton – This is really up to the conductor's discretion.   The baton customarily being white, it often serves the purpose of aiding visibility from the orchestra pit of a darkened theater.  It is less frequently used in purely choral performances, especially those without orchestra or other instrumental ensemble.  In its absence will come more opportunity for expression via the unaided hand.            Join Email List