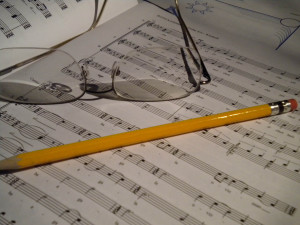 Nothing is more frustrating than a chaotic, poorly organized rehearsal session.  It is a waste of our valuable time, and quite frankly, kind of an insult.  Whether the disarray comes from leadership or rank-and-file (or both), it seems to make the statement that our time and effort are not worthy of consideration.
There is work to be done, music to be learned and refined, and the more efficiently we can do it, the better our results will be.  Having sung hundreds of choral rehearsals (some well-run, some not so) over the years, and having run quite a few myself, here some things I have learned, from both the leadership and the rank-and-file perspectives.
IF YOU'RE RUNNING THINGS –
Positive, relaxed energy equals vocal freedom.
Overall, the less stress and irritation you foster in your choral leadership approach, the better the singing you may get from your choir.  This means better vocal health.  Even a little tension can immediately be sensed, so keep your attitude, and your actual conducting, relaxed and positive.
Know the music you're going to teach.
When a conductor shows up unprepared, not only is everyone's time wasted and their efforts hampered, the conductor's credibility and authority with the choir are diminished.  Set a proper example.  Have at least a practical, working knowledge of the text, notes and rhythms, and be able to convey to your singers a sense of what the piece is about.
Communicate.
When announcing the next piece, starting places, and any and all other information, be loud and clear with it, making it less likely you'll have to repeat things.
Rehearse no more than two hours, and take a break.
For an extremely dedicated choir, perhaps two and a half hours of rehearsal is do-able.  That is about as much singing at a stretch as is healthy for any singer.  Plus, after this much time, concentration begins to flag.  Either way, plan on a 10-minute break.
Be organized.
Make and distribute an agreed-upon schedule of choir rehearsals, and stick to it.
Learn new repertoire over a long period and several rehearsals.  Time (along with repetition) helps to solidify new ideas.  Try to avoid cramming new things into just 1 or 2 sessions.
Have your sheet music organized for easy distribution.  Keep a few extra copies of each piece.  Make sure each score you are working with has clear page and rehearsal numbers.
Have a supply of pencils in case someone needs one.
Plan out your rehearsal agenda.  Here's a suggested general plan:
1.  Start with 5-minute choir warm-up, including training execises in vocal technique and musicianship.
2.  Sing through and work on one familiar major piece.
3.  Move on to new or challenging music.  Think of this as the core of the rehearsal.
4.  10-minute break.
5.  Spend the remainder of time with other familiar music, and to rehash new pieces.
Keep the rehearsal moving along.
Work diligently on each trouble spot, but don't beat a dead horse.  If it doesn't work after a few tries, come back to it later.  Try to minimize tedium.  If possible, avoid working only on new pieces, and work on those new things earlier rather than later in the evening, while minds and concentration are still fresh.  Try to intersperse easy, familiar, well-liked pieces with new music to keep the session fun and gratifying for your singers.
Be gracious.
I always try to remember this valuable principle of interpersonal relationships:  Preserve and enhance the dignity of others.  Avoid humiliation, embarrassment, shaming or being patronizing – which are never helpful or constructive.  A good thing to remember in all of our interpersonal dealings! 
Be patient, encouraging and positive; be exacting, but avoid brow-beating.
More than likely, your rehearsal is happening on a weekday evening, and the last thing anyone is in the mood for after a long work day is unnecessary abuse.  And it's not likely to foster vocal freedom.  Stick to the goal of making your rehearsal a fun, positive, challenging and gratifying experience.  When the choir does something well, reward them with an honest, but not overdone, compliment.  When you hand out constructive criticism, precede it with a "good work!" and then tactfully communicate your concern.
Accept and answer questions gracefully, and don't be afraid to admit when you don't know the answer.  And even as you are the leader, make it feel like the collaborative effort that it is.
Get it right first time every time; avoid mislearning.
Take it from me, it is much harder to re-learn something previously learned the wrong way, than it is to learn it correctly the first time.  It's like a stain on white fabric — much easier to avoid it in the first place than to try and completely eradicate it afterward.  Make sure to be correct from the outset.  And when something does get mislearned, make sure to correct it without delay.
Where are you starting?
This is an essential example of good rehearsal communication.  Nothing wastes more time at a rehearsal, with all of its starting and stopping, than unnecessary confusion about where you're resuming from.  It's important to communicate loudly and clearly to the choir, each time you resume singing, the following:
which page
which system
which bar
which beat – you're starting at.
Always count into the entrance.
Most music exists in the strict context of time.  The choir can't just start singing at random and hope to enter together!  So once you have established where you're starting, always guide the choir into the entrance by loudly counting into it.  Example:  In 4/4:  "1, 2, 3, sing!" (choir enters on beat 1 of the following bar).  Of course this won't happen in actual performance, but in a rehearsal context, it speeds things up and ensures proper learning.
Use the "Listen then repeat" method
When working out a tricky passage, be sure you and your singers use this approach.  Play or sing the notes correctly in rhythm while they listen carefully (no singing along), then have them immediately repeat.  If they are singing along (or talking), they aren't really listening and absorbing those correct notes.
Rehearsal accompanist
If you have access to a good rehearsal accompanist, try and take advantage of this.  To make optimum use of their skills, be disciplined about communicating starting points, and about counting into the entrance.
ADVICE FOR THE GROUP –
Avoid unnecessary talking
Extraneous conversation is distracting to your conductor, and slows the rehearsal down!  If you must clarify something with your neighbor, do it as briefly and quietly as you can, then immediately tune back in to the conductor.
Listen and pay attention when not singing
These are the times when you'll be getting important instructions.  Don't make it necessary for the conductor to repeat information that has already been clearly communicated to you.  It's a waste of time, and it doesn't ingratiate you with your colleagues.
Even when other parts are singing but your part is silent, try very quietly humming your part along in the passage – you'll end up having a head start when it's your turn.
Organize your music
Arrange your folder or binder so you can easily locate any piece within 10 seconds.  Always bring your music to rehearsal, and don't lose it – it's expensive!
Know the score.
Know your way around it, that is.  You'll find it very helpful to familiarize yourself with the overall visual layout of your sheet music, which can vary greatly from piece to piece.  You may encounter published scores, some of which are very poorly notated, or very hard to read.  Or you may have to read off of photocopied manuscript, which may be even worse.  Get to know where your voice part is, and mark it clearly on each system.  Then mark your part so you don't get lost (as even experienced musicians sometimes do!).  When in doubt, don't hesitate to ask questions.
Mark your music.
Always bring a pencil to rehearsal.  Mark everything in pencil – breaths, breaks, volume and tempo changes –and assume you'll have to erase it later.
Join Email List