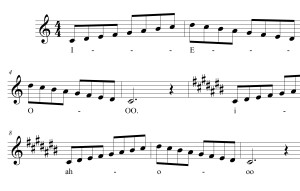 Part I – Making the Case.  
In learning to sing, whether in a very serious and comprehensive way for grand career ambitions, or in simply learning some of the very basic fundamentals in order to be a more effective choral singer, or perhaps to sing folk or light pop in the local coffee house on Saturday nights, one undoubtedly encounters many different technical approaches and philosophies proffered by many different singing instructors.  Some might be tailored to a specific style of pop, religious or other genre.  But if one is seeking the most universally practical singing technique, the classical approach is ultimately the most useful for any and all styles of singing, and especially for choral singing.  Why is this so?
Before proceeding to explore the case for classical vocal technique, let's be sure to distinguish the difference between technique and style.  Style has to do with a subjective, artistic approach to delivering a song or piece.  We are conveying an attitude by following a kind of recipe whose ingredients all contribute to the finished stylistic dish.  Some of these ingredients contribute to the general mood and attitude, others might address a broader set of cultural trappings.  Style is nearly always the embodiment of an evolved musical tradition.
Country music vocals, to take one example, are often sung in a twangy, nasal style, and the mood is often anguished and mournful, generally in keeping with the lyrics.  And of course these are routinely done in a mostly southern style accent.  There are a whole array of other carefully cultivated vocal mannerisms that contribute to this "country" feel.
Technique is the set of skills we employ to convey the style – the developed physical abilities that allow us to skillfully and effectively sing in this or any given style.  It is the machinery that produces the display, the lamp that shines the light. 
At the risk of confusing technique with style, let's employ the term "classical" (small C) to name this technique.  Classical is also a broad style or group of sub-styles – Baroque, Classical (with a capital C, denoting an actual historic period of roughly 1750-1820, and including Haydn, Mozart and Beethoven), Renaissance, Romantic and 20th Century modern.  But we'll use the small-C term classical to refer to the singing technique that began to grow and develop in Europe during the great flourishing of opera in the 17th and 18th centuries, and continues more or less unchanged to the present.  Here technique and style evolved together, the one to serve the other.
VIRTUES OF CLASSICAL TECHNIQUE
Efficiency.  By developing a technique that maximizes the balance of resonance and roundness of tone, we are able to produce the maximum sound for the least effort.  The voice attains more carrying power, richness, beauty, versatility and longevity.
Vocal Health.  When we produce sound with correct breath support and freedom from tension, we minimize the possibility of irritating or even damaging the vocal chords, and of developing the wrong muscles in the neck, throat and tongue.  With good classical technique, our vocal endurance is enhanced, even when we're fatigued.  Over the long haul, we might well be enabled to sing beautifully for decades rather than just years.
Beauty of Tone.  Correct technique will help us render the voice in its optimum beauty and richness, no matter the style you're singing in.  One of the endemic issues in amateur choirs is that of the spread tone, in which vowels are approached in a shallow, horizontal way.  The resulting "mouth resonance" tone is dull, uncultivated, uninteresting, lacking in warmth, vitality and, as it happens, carrying power.  Happily, this issue is not difficult to remedy with a little of our classical technique.
Versatility.  Proper singing technique in our classical fashion is beneficial pursuant to any style of singing.  Once you have it, you can all the more easily make technical adjustments to fit the style.
Choral Technique.  In the case of choral singing, regardless of musical genre, stylistic differences must be approached with more care and restraint than with solo singing.  Remember the concept of ensemble?  Whatever style elements are applied, they must be applied together as a group, otherwise the group will not sound together, and the whole idea of choral singing goes out the window.  This means that each voice must use the same essential tone quality, the same approach to diction, attitude, mood, etc. as all the others.
This is where it becomes essential to promote at a group level the basic fundamentals (at least) of good classical vocal technique.  Even just a few of the basics, addressed to the group consistently over time, can make a noticeable difference in the basic sound of a choir.  Then every singer will be more empowered to understand how to achieve these elements of style together, and the possibilities for good ensemble are all the more enhanced.
Remember:  Just because we're learning classical vocal technique doesn't mean we'll have to sound like opera singers (though we could do a lot worse!).  Classical technique empowers us with a solid foundation on which to build whatever singing style we like.
In our next post, we'll explore some of the elements of classical singing technique.     Join Email List