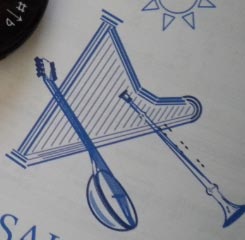 In our Jewish community, we are desperately seeking something to enhance the beauty and interest in our services.  Those of us for whom instruments in shul are not permitted under the laws of observance, the only real way to add dimension to our music is choral singing. Choir music in the synagogue is by no means new, and in fact there is a long history of it throughout Europe going as far back as the late Renaissance with the likes of Salamone Rossi.
But we have a lot of catch-up work to do in our choral singing compared to the church community, from which we can gain some valuable perspective on music making.  Here are some general areas we might concentrate on.
Improved Musicianship.  When it comes to fundamental musical skills, a little improvement can go a long way toward enhancing our realm of repertoire possibilities, for we will use these skills endlessly.  When we speak of cognitive musical skills, we are referring to such abilities as reading music, specifically sight-singing (which, incidentally, isn't necessarily possessed by even skilled instrumentalists who read music).  Good sight singing requires the further skill of hearing and recognizing in our ears the various tonal intervals, as well as seeing and recognizing these intervals on the printed page, and ultimately correlating the audial with the visual.  The same is true of the rhythmic element of music.  Of course all this means also knowing our way around a printed score, gaining the acquaintance with the beautiful language of written music.
Improved Vocal Skills.  Vocal ability – singing ability – means being able to produce the tone beautifully and efficiently, and with enough control to execute changes in dynamic and articulation, as well as produce beautifully shaped line.  These are largely skills of physical coordination related to the physical act of producing sound.  Again, as with musicianship, a little skill enhancement can make a big difference here.  See the post on singing basics.
Team Work/Ensemble.  Choral music and choral singing are nothing if not about unity – unity of tone color, vowels, consonants, dynamics, tempo, rhythm – in short, a closely-knit team effort in regard to every aspect of the music.  This is the art of ensemble (meaning "together"), and it requires learning how to listen even as we are singing, being perfectly tuned with the rest of the group, and being able to adjust and change course in a split second as necessary.
Improved Musical Knowledge & Taste.  In our wider secular culture these days, there seems to be a narrow (and continued narrowing) sense of what constitutes good, or indeed great, music, with more and more of us shunning higher musical culture as something we are not worthy of, that we should be intimidated by, or that we owe our disdain due to its elitist trappings. Worst of all, for an apparently increasing number of younger people  there is an out-and-out ignorance of this higher musical culture, a completely deprived sense of what truly great music is,
One can sense this even within the pop realm, with the music displaying less and less melodic, harmonic and formal (not to mention literary) substance. Let's ask ourselves:  how many pop songs of the past 20 years have endured as standards in the way many of the songs of Lennon-McCartney, Paul Simon, Bob Dylan or Burt Bacharach have endured?  Those artists were still operating under an awareness (even when they outwardly rejected it) of the fundamentals of substantive music.
This cultural void is, if anything, more pronounced in the Jewish community, which has had a long history of being excluded, and excluding itself, from the higher culture of whatever wider community has surrounded it.  For a Jew to be included individually in this higher culture, historically, has often required assimilation and/or renunciation of one's Jewish faith and culture. Such requirement may have receded, but the Jewish sense of obligation to it doesn't seem to have faded completely.
Given the glorious legacy of Jews in American popular culture through much of the 20th Century, it isn't surprising that this first real era of Jewish inclusion and importance in a broader culture should hold such a perpetual and affectionate attachment to Jewish self-identity in America. One senses a great jealousy and need for such a legacy of inclusion, and its attendant sense of identity, in the British or French Jewish communities, to name two.
All of which is to say, we American Jews revere our pop culture – so much so that we may not think twice anymore about elevating it to the level and status of high culture.  But at the very least, shouldn't we be more willing to explore other territories which carry much higher and historically much longer reputations for quality and substance?  And in our efforts toward enhancing our worship and ritual, shouldn't we be aiming as high as possible?  And if we're being elitist, isn't this entirely appropriate for our musical offering to the ultimate Aristocrat, the Object of our awe and reverence?
As we discussed in the previous post, pop music is fun, and occasionally may rise to a level approaching that of high art,  But even at its best, pop music will almost always be about romantic love and courtship, and will therefore have an element of the secular, and even the sexual, in it.  Let's therefore be careful not confuse our attachment to popular music with a misperception of its appropriateness in the sacred realm.  And more subjectively, let's be cautious in assigning it more qualitative status than it might deserve.
In all of these areas, we can and must learn a lot from outside the Jewish realm, and yes, this includes the church community.  If nothing else, we can prosper from seeing what is possible (and necessary) qualitatively in terms of singing and musicianship, qualitative taste and standards, and in terms of the power and effectiveness of well-chosen worship music.    Join Email List