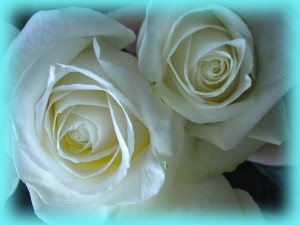 What is a wedding if not an occasion to dress for?  We clothe ourselves in the most formal and dignified attire of our entire lives.  And why?  At first we might think it's simply because we're celebrating a joyous occasion, so why not dress "to the nines?"  But there are other joyous occasions we normally celebrate in much more casual attire – birthdays, for example.  When was the last time you dressed up in formal wear for a birthday or anniversary unless it was because you were going to a very fancy restaurant?  Even then, you might have done so only to meet the restaurant's dress code.
How we dress can of course be a means of self-expression, of telling the world how we feel (consciously or subconsciously) about ourselves and about our lives.  But mostly it's a way of presenting ourselves appropriately in society.
When we reach huge milestones in our lives, no matter our cultural background, it is customary to present ourselves in the most dignified light possible – not only for ourselves, not only for each other, but for the occasion itself and what it represents in our life.  Those of us who feel a spiritual or religious aspect of the wedding day might well imagine ourselves as coming before the Almighty to declare our commitment of lifelong love, to take our vows of matrimony.  If nothing else, it is to demonstrate our seriousness about such a commitment, perhaps before G-d, certainly before our family and friends, before society.  We might think of such seriousness as analogous to the sort we convey when making a profound and important speech.  We hope that our speech will not be taken lightly, and take a serious tone in order to be taken seriously.  Likewise, we dress for important occasions in order to take them, and to be taken, seriously.
Dressing the Wedding.  In the wedding ceremony, we extend such sense of dignified dress to the physical surroundings of the wedding venue.  Whether it's a museum, conservatory, garden or other space – even a grand sanctuary, the ceremonial venue is further dressed up in lovely flowers and furnishings.
Music as Wedding Attire.  With all the time and thought we give to these various sartorial and decorative aspects of the ceremony (and the more unbuttoned reception and celebration that usually follows), it often seems surprising that the music, arguably the most important atmospheric ingredient in the wedding service, or indeed any ritual proceeding, is sometimes given less consideration than the other elements.  Lack of musical knowledge, a place to cut corners, a notion that in posterity no one will remember the sound of the music (it doesn't really photograph well).
Serious vs Fun.  We make a distinction between the ceremonial music and the celebratory reception music.  While the latter is generally in a popular vein, typically suitable for dancing and for a relaxed and festive social setting, the former is meant to create a decidedly more formal, even sacred, mood.  Just as once we arrive at the reception, ties and jackets might come off, and even the bride removes her vail, so the music is more relaxed and fun.  We are breathing a collective sigh of relief after making it through the very solemn moments of the ceremony.
But that ceremony, even if we intend it to have a more secular feel, should always carry that sense of seriousness, dignity and pride that we hold for this major occasion in our life, and that we wish to convey to all our family, friends and community – it is the same basis for our very formal and dignified dress.  We want the world to know about our love for each other, and about the life commitment we are making.
Dignity and Beauty.  Let well-chosen music convey that mood of grandeur on your momentous occasion.  Whether you hire professional players or choose pre-recorded music, let it be commensurate with the dignity and beauty of the day.
One of my cherished tasks as a composer has been my endeavor to produce the sort of music that attains this goal.  I invite you to visit and explore my website of wedding music, written in many styles and moods, instrumental and vocal, sacred and secular.  Two video samplings of my wedding works, one for general and the other Jewish weddings, are available on YouTube.
In upcoming blog posts, I hope to share with you some insights of my wedding works and how they can help you transform and elevate your special day into an occasion you and your family and friends will remember with your ears as well as your other senses.   Join Email List